Reliable fleet and specialized equipment you can count on for all your industrial asset recovery needs.
Heavy Weight maintains a state-of-the-art fleet that enables us to tackle any asset recovery job – no matter how big or small.  We can customize equipment to tailor an engineered solution to unique recovery projects. We have the right tools, techniques and experience to take on plant takedowns, building closings, remodels, program overhauls, industrial recycling and comprehensive asset recovery.
An unparalleled fleet of specialized equipment and skilled operators have streamlined and improved the process by which daily operations are conducted.  This allows our trained staff to recycle more elements of each specific item. Maintaining newer machinery and regularly updating facilities and equipment enables decreased landfill deposits, increased separation capabilities and a reduced environmental footprint.
Our fleet and equipment is extensive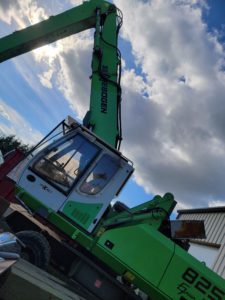 A few highlights include:
2018 Komatsu PC 210 Excavator with Shear
2020 Western Star Roll off
2020 Freightliner Box Truck
2020 Western Star Tractor/2021 Landoll Trailer
2021 Caterpillar Wheeled Excavator
2021 Caterpillar Bulldozer
2022 Kubota KX080 Excavator
2023 Sennebogen Material Handler with Magnet and Grapple
2023 Kenworth Roll off
Bobcat with Attachments
Volvo & Komatsu Payloaders
Wide range of forklifts from 2k-35k lb. capacity
Our shear and grapple equipment in action
Contact us today to find out how we can maximize your investment recovery or to check our substantial inventory of equipment and products.